School Uniform
Boys Infants
Black trousers, short or long
Black or grey socks
Blue V-neck sweatshirt or cardigan with school logo
White Polo shirt with school logo - no tie for infants
Boys Juniors
As above with a school tie and a white shirt, short or long sleeved shirt in the winter terms (October until Easter)(Polo shirts with school logo may be worn between Easter and October half term only)
Girls Infants*
Black pinafore dress, skirt or trousers
Black or grey tights
Blue sweat cardigan or sweatshirt with school logo
White polo shirt with school logo — no tie for infants
Girls Juniors*
As above with a school tie and white short or long sleeved shirt or blouse in the winter terms. (October until Easter)(Polo shirts with school logo may be worn between Easter and October half term only)
*In the summer all girls may wear a blue and white check dress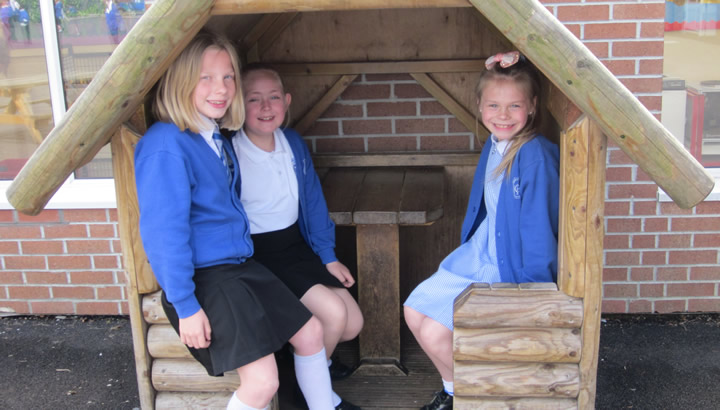 PE Uniform (Boys & Girls)
Every child is required to have their PE kit in school everyday
White round-necked shirt with school logo
Black shorts (not lycra cycling shorts)
Black plimsolls* - Years 3, 4, 5 and 6 must have suitable plain trainers not coloured Astroturf trainers
Plain black/navy tracksuits are optional for outside winter PE/Games lessons. No large logos/pictures please
School socks – white, grey or black
T-shirts in house colours should ONLY be worn for sports day and other house events (available from the PTA £3 each)
*All Infant children should be wearing plimsolls for PE both in the school hall and outdoor. All Juniors need to wear either black plimsolls or bare feet when PE is taking place in the hall. This is because the flooring in the hall is not suitable for trainers. The grip on the bottom of a trainers sticks to the parquet flooring and makes it possible to trip as well as not being flexible enough when using the climbing equipment. Therefore, for safety reasons we insist that children either use plimsolls or bare feet. However, Juniors are permitted to bring in trainers for outdoor PE. Trainers should be a plain dark colour and not "Astroturf".
Additional Uniform
A royal blue PE bag with school logo
A royal blue book bag for infants with school logo
Only school branded or plain blue baseball caps or hats may be worn
(Several optional uniform extras such as baseball caps and rucksacks are available from School Days)
School Days:
94 High Street
Whitton
TW2 7LN
Phone: 0208 898 4881
www.schooldaysllp.co.uk
Please see the school Year Book for more details about shoes, jewellery, hair and cosmetics.