Collective Worship
Collective Worship is a daily experience. We use iShare themes that explore a theme for half a term. Children are encouraged to learn a Bible verse and to consider ways in which the Biblical principles we are learning about can be applied to our daily lives. At the end of each half-termly theme the whole school has a session in class to review what we have explored.
Each Collective Worship includes an Anglican greeting, a song and prayer. There is usually a story, a Bible verse or an explanation of part of our current theme.
Our Collective Worship policy can be found on our School Policies page.
Our most recent SIAMS inspection (March 2019) recognised:
"The school's inclusive and inspiring worship is enjoyed by pupils and adults. It enables them to develop spiritually and reflect on their behaviour and attitudes."
iShare Learning Themes for 2022-23
More information about our iShare Learning Themes can be found on Our Vision and Values page.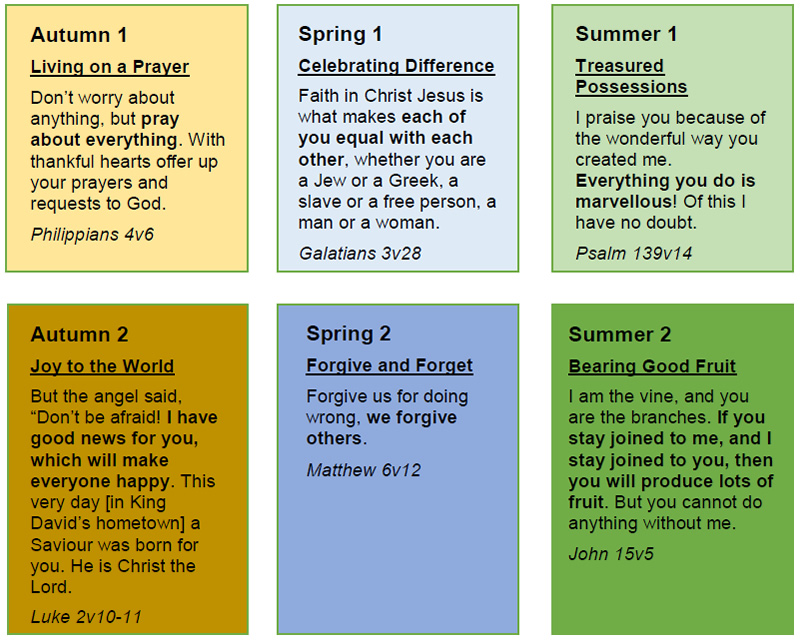 Our Collective Worship Programme
Monday – Class/Year group Worship in class or year groups within the classroom.
Tuesday – Whole School Worship usually led by clergy, Father Stuart comes to take Collective Worship.
Wednesday – Hymns of Worship Mrs Walker comes into school and teaches us songs to use in worship.
Thursday – Whole School Family Worship led by SLT or Father Joseph, the whole school comes together for Collective Worship.
Friday – Celebration Worship KS1 and KS2 gather together at different times for Key Stage Celebrations when we recognise achievements and successes that we have seen during the week.
Class-led Worship is also held throughout the year, each class takes a turn to lead worship for the rest of their key stage with parents invited to join.
Gold Award Worship is held at the end of each half term, this is a whole school worship where we celebrate the children receiving Gold Awards, and we're joined by their parents and governors.