Parent Teacher Association
The Parent Teachers Association at Ashford works tirelessly to support the school in fundraising initiatives. Throughout the year we hold fayres and discos as well as other social activities. The dates for this year's events can be found in the calendar in the school Year Book.
The committee is always grateful for more helpers and committee members. If you have suggestions for fundraising initiatives or would like to become more involved in the committee, please contact the Co-chairs of the committee: Mrs Rachel Bownds and Mrs Lucy Moreton via email pta@ashford-primary.surrey.sch.uk or through the school office.
PTA Summer Fayre: Friday 30 June 6-9pm
Celebrate Us! 200 years of Ashford C of E School.
Entrance: Adults 50p, Children Free (All children under 16 years must be accompanied by an adult). More information can be found in our latest letters or the programme below.
PTA Letters
PTA Spring Fayre: Friday 10th March 5:30-8:30pm
This year's Spring Fayre once again featured the usual selection of popular stalls and attractions, including Tombolas, Raffle, Crafts, The Hangout, and many other activities around the school. In the hall we had a variety of stalls selling a selection of goods including cards, handmade items, books, cupcakes, jewellery and much more.
More information can be found in our newsletters above.
PTA AGM 2016
This years PTA AGM took place on Wednesday 9th November. The Chair and Treasurer report for 2015-16 and the minutes of the meeting can be found below.
Class Reps
Class representatives undertake a very important role. There are usually two representatives per class who provide a critical role in aiding communication by acting as a link between parents of their class and the PTA committee.
Act as a link between the PTA committee and parents
Be familiar with the calendar of PTA events
Encourage parents to support PTA events
Provide feedback to the PTA committee after events
Seek out volunteers for events when needed
Our current list of Class Reps is below.
Fundraising
Over the last few years our fundraising efforts have enabled us to purchase: LearnPads, laptops, library books for new class libraries, dictionaries for each class, Guided Reading books for Juniors, a PA system, climbing frame for the playground and new PE equipment for the hall. We have also contributed towards the new playground markings.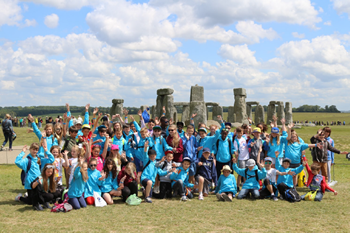 Two years ago we launched our ICT fundraising project to help the school improve and develop the ICT resources available. We have now purchased 11 sets of LearnPads, a new projector and wall speakers for the hall and a set of 16 laptops. We are always looking for businesses and other organisations to help us provide more equipment, for our children to use in their everyday learning, and so to prepare them for their future schools and enable them to become highly competent employees or employers of the future! If you know of a company who would be interesting in helping us please contact us via email pta@ashford-primary.surrey.sch.uk or through the school office.
Help make a difference
Help us raise funds for free when you shop online, click on the Easyfundraising link below.
Registered Charity Number: 1102189