Bishop of London Visit - 18th September 2012
The Right Reverend and Right Honourable Richard Chartres KCVO, Lord Bishop of London, visited Ashford CE Primary School on Tuesday 18th September 2012 to tour the school after the latest stage of its refurbishment and renewal.

Caroline Dyer, Headteacher at Ashford CE Primary School, said:
"The children are thrilled to be able to show such a special visitor as the Bishop their school with all its improvements. They are particularly keen to talk to him about their hopes for the future and the way their school is developing."
The Chair of Governors said:
"This is a very special visit at a time when the school is looking forward to an exciting and bright future. The role of the Church in the school has always been important and the fact that the Bishop is blessing the new table-top cross is especially fitting. We thank him for spending this time with the children and staff."
During the visit, the Bishop was given a tour of the school, visiting a class in each year group to hear about their activities. Pupils from the school council then joined him for tea in the new staff room, where the Bishop took questions from the young students on a range of topics.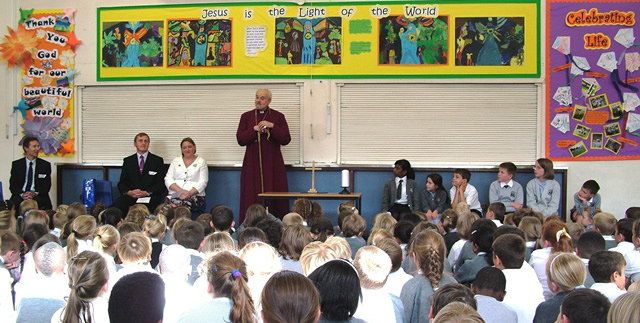 The Bishop also led the school in collective worship and enjoyed a rendition of the school song, sung to the tune of "When a Knight Won His Spurs", which commemorates the foundation of the school on the generosity of local Christians in 1817. The Bishop also blessed the school's new table top cross, which will be the focus of the school's collective worship.