Reading & Writing
English is a cornerstone to unlocking the future for our children. Understanding the language is essential for them to feel confident and secure and to help them access and appreciate the world around them. It is the foundation of everything they will undertake in their lives and the access point for all parts of the school curriculum. At Ashford we aim to inspire a love of learning by teaching literacy skills through all the subjects.
Our aim is to teach them to:
Listen attentively, understand and appreciate
Speak confidently, clearly and be able to use appropriate language for different situations
Love books and read with confidence, enjoying and discriminating about what they are learning
Communicate confidently and happily in a wide range of situations
Express their ideas using correct spelling, punctuation and grammar
Take pride in their work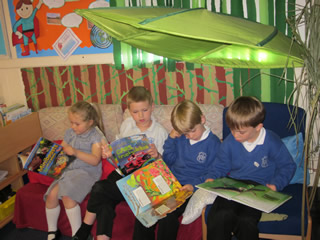 Reading and our Reading Scheme
Our reading scheme is a colour based, progressive scheme incorporating books from a range of schemes including: Oxford Reading Tree, Rigby Star, Rigby Rocket, Collins Big Cat, Usborne Beginners, Longman and Ginn 360. This is supplemented by classic children's literature and quality children's books which do not belong to a specific scheme. The benefits of this are:
A great number of books to choose from.
A choice of material to practice and rehearse as well as challenge and extend reading skills within each level.
A variety of characters and types of books develops a true reader.
Less competitiveness in children and parents.
Choice enables children to find stories they enjoy.
Children remain confident and move onto paperbacks with ease.
Changing Books
Children have the opportunity to change their books each day if they have brought a book back from home.
Separate boxes for each level are available and children will select their own book at a set time of day.
Adult support is there initially but we encourage children to take responsibility for changing their own book.
Children often like to select the same book for a couple of days or take a book again as it gives them confidence in reading.
If you feel they are not changing their book regularly please let us know.
Children will be moved on to the next reading level when we feel they are ready. We usually want the child to be 90% accurate in their reading before we do this; but aspects such as using expression and understanding what they are reading will also play a part in the decision.
Children will have a Reading Record for you to write in when you have read with them at home, however it is not for detailed communication with the teacher. If you have any concerns about your child's reading or feel you need any support please do ask their teacher.
We concentrate on teaching reading skills with your child at least once a week but we need your help to reinforce these skills by hearing them read at home. We will either be stamping their Reading Record, acknowledging progress, or at times making comments.
Reading for Pleasure
Our aim is to provide children with good experiences of reading so that we develop and nurture children who will read for pleasure. This can be done in a variety of ways:
Reading should be enjoyable and something that children want to do. It is a life skill and it is important that children find it pleasurable and valuable. As parents and teachers we need to ensure that we do not put children off reading by turning it into a chore.
Children need to see good role models of reading for pleasure, from parents/carers/siblings. Children pick up so many habits by imitating the behaviour of those around them and as parents you have the greatest influence. If they can see you enjoying reading and talking about what you read they will see it as something worth emulating.
As research has shown, children who are read to from an early age tend to become enthusiastic readers themselves. Through being read to they pick up so much information about the process of reading and again see a good reading role model.
Children thrive by having a special time and place to be read to – for many this will be at bedtime. Do try and make time for this, once a day is beneficial.
We want to nurture good reading habits and positive attitudes which will help our children to be confident readers for life.
Year Group Reading Lists
Supporting your Child with Reading
Learning and Teaching Writing
Writing is taught daily as well as being incorporated across the curriculum. Throughout the teaching of writing links are made to reading. This will include analysing the features of texts and at times developing checklists to guide subsequent writing. Speaking and listening plays a vital role in writing development. Drama and role play are frequently used as a way into writing and pupils work with talk partners or supporting adults to verbally rehearse their writing. Children are given the correct technical vocabulary with which to discuss their writing and shown why such language is important.
Aims:
The aims for our children at all Key Stages are that through opportunities for writing they will:
Learn to write with confidence, enjoyment and fluency showing creativity, understanding and an awareness of the reader.
Understand and use phonics and spelling rules to spell accurately.
Have fluent and legible handwriting as well as develop word processing skills.
Write effectively in a range of fiction and non-fiction genres.
Use planning and drafting techniques as an integral part of the writing process.
Incorporate a growing vocabulary and literary devices to enrich their writing.